<![if !vml]>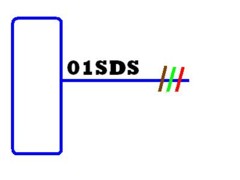 <![endif]>
Power System Dynamics Server
                                                            by
                                     Power System Dynamics
                                     Analysis & Consultancy
                                     (PSDAC)
                                     333 West Almeria,
                                     Phoenix, Arizona 85003-1163
                                     Phone: (602) 274-6800
                                     Web: www.psd-ac.com
OVERVIEW
Power System Dynamics, PSDAC, is a company that has been in the electric power industry since 1994 and has developed unique and appropriate methods of solving the dynamics of electric power systems. Due to their novelty and usefulness, those methods are creative as well as innovative because they lead to practical results and server-based computing products which allow you to centrally execute dynamics applications and to display the results anywhere on your network in a secure manner. The Power System Dynamics Server 01SDS is one of those products and it has been designed to suit the ever-changing needs of electric utilities in managing generation, transmission and energy. It has a Windows user interface and supports a distributed set of relational databases across the typically geographically spread system representing electric utilities.
<![if !supportEmptyParas]> <![endif]>
01SDS FEATURES
<![if !supportEmptyParas]> <![endif]>
01SDS uses a local area network (LAN) adapter to access the data collected and locally and/or remotely stored in the electric utility databases and generates dynamical behavior studies, automatic generation control functions, production cost calculations, economic and optimal power flow. The power system is made of nodes, each node being allowed to have any kind of generation or load.
<![if !supportEmptyParas]> <![endif]>
<![if !vml]>
<![endif]>
State-of-the art models are used for:
·    Prime Movers: hydraulic plant with single tunnel/penstock or multiple penstocks and common tunnel and with or without surge tank, fossil (Gas, Oil, Coal) fueled plant, nuclear reactor plant, combustion turbine plant, combined cycle plant and Diesel turbine.
·    Synchronous machines (generators, motors and condensers)
·    Asynchronous motors
·    Excitation systems and power system stabilizers
·    Automatic generation control (AGC), frequency and active power control including ACE and NERC's new control performance standards
·    Loads
·    DC converter and DC control
·    Control of reactive power and voltage (shunt and series capacitances, static var system, shunt reactors, under-load tap-changing transformers and subsynchronous resonance, FACTS)
·    Transmission lines including Carson's approximation and the approximation by Gary, Deri et al.
·    Dynamic capacitances and corona
·    Transformers
·    Grounding
·    Protection system including circuit breakers, tripping equipments, detection elements and relays (overcurrent relays, directional overcurrent relays, distance relays, power swing and out of step relays, differential relays, bus differential relays, transformer differential relays, reclosing relays)
·    Disturbances and topology changes
·    Time evolution including steady-states, stability, bifurcation, collapse and chaos
·    Optimization, energy management and decision support including, in addition to AGC, the following functions: automatic voltage (Q-V) control and voltage scheduling, dynamic security, energy pricing and penalties with contract suppliers, fuel scheduling and fuel management for thermal units, generation planning, hydro-thermal coordination, interchange transaction scheduling, tie-line control and energy accounting, maintenance scheduling, network planning, optimal power flow, production cost, pumped storage, static state estimation, unit commitment, economic dispatch, reliability, reserves (ready and spinning reserves), production simulation, economic analysis methods, real-time pricing, electricity commodity trading, parameter identification, load forecasting, energy management systems (EMS with RTUs, SCADA and databases) and decision support.
SUPPORT FOR BOTH WINDOWS AND NON-WINDOWS CLIENTS
01SDS can be accessed by all Windows clients including Windows 3.x, Windows 9.x, Windows CE, Windows NT workstations, Windows 2000 Workstations, Windows XP, Windows for Workgroups. It also supports non Windows-based terminals such as DOS, web browsers and Java-enabled devices (Netscape Navigator plug-ins, Microsoft internet explorer ActiveX Controls, Java applets), OS/2 Warp, Apple Macintosh, Unix workstations (HP-UX, Sun Solaris, SunOs, DEC, IBM AIX, SGI IRIX), a broad range of client hardware including Pentium PCs, Windows-based terminals, network computers, wireless devices, and information appliances, and even older and less powerful hardware such as PCs with the Intel 286 processor and other legacy hardware. A large screen or wall display (with detailed information viewed by zooming onto the elements of the single-line diagram) is a client also able to access the server and so are mobile workers such as field agents and crews. 01SDS is virtually accessible by any client, and the access is at a near-LAN speed.
                        <![if !vml]>
<![endif]>
                                                                                                ANY CLIENT
<![if !vml]>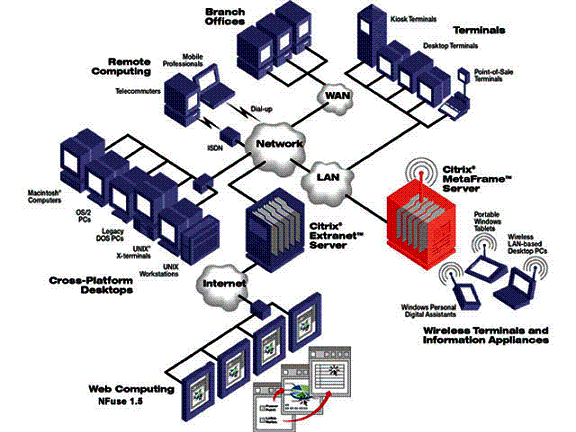 <![endif]>
                                                                                                ANY NETWORK
CONNECTIVITY TO 01SDS
01SDS is delivered to these heterogeneous environments over corporate LAN, WAN links (T1, T3, 56kb, X.25), standard telephone lines, broadband connections (ISDN, Frame Relay, ATM), wireless connections and the internet using a third-party add-on (Citrix Metaframe ä ). 01SDS can be connected to mainframes and minicomputers; it can also be administered remotely to perform tasks such as directory maintenance, virus scans, backups, reboots, etc... Furthermore, it has a tight security system: the server owner has control over the users and their access level which is determined from their profile (executive, operator, field officer, company personnel, business partners,..). Users running the application on the server and displaying the results through their keyboard, mouse and display see only their individual session. Each session, including application runs, data display is handled independently of any other session and multiple simultaneous sessions from one or many clients are possible. 01SDS supports popular LAN and WAN protocols, including TCP/IP, IPX/SPX, NetBIOS, and direct asynchronous connections. 01SDS can also send faxes and e-mails. The Interutility and Intercontrol Center Communications (ICCP, WSCC, ELCOM-90, IDEC, BSC) can be incorporated.
<![if !vml]>
<![endif]>
CONNECTIVITY OF 01SDS TO UTILITY DATABASES
After authorized access, 01SDS can read warehouse historical data from any local or remote database server including Microsoft SQL Server, DB2, Oracle, Sybase, Informix, Interbase, dBase, Paradox, ASCII as well as all ODBC compliant databases such as Access, AS/400, Btreive, and many others.
<![if !supportEmptyParas]> <![endif]>
KEY BUSINESS BENEFITS
·    Improved service to customers
·    Reduced operational costs
·    Improved power system performance
PSDAC's COMMITMENT
·    Active users group
·    Training
·    Adherence to industry standards
·    Lifelong service and support
·    Broad system maintenance program including hardware maintenance, hardware change notification, software maintenance/updates
·    System assessment/analysis
·    Technical help desk support
If you believe that 01SDS is a product your company may be interested in, please give a call or write to PSDAC at the number or address above for a presentation at your location of choice by PSDAC's highly qualified personnel. That would give you and your co-workers a chance to further evaluate 01SDS. You can also check us out on the internet at
www.psd-ac.com